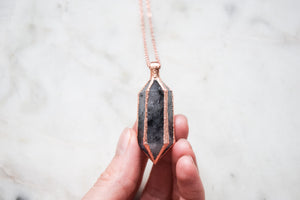 Tourmalated Night
Regular price $115.00 Sale
This necklace is absolutely stunning, embodying the energetic power and protection of tourmaline. 
28" in Length 
Ancient wizards used this crystal to protect themselves from demons when casting spells. Today it is revered as a talisman, a stone that deflects negative energy and shields your psychic mind. It grounds your spirit to the earth and aligns your chakras, allowing a transfer of healing energy to flood your body from your crown to your root. It's basically a super badass crystal that empowers you energetically and  protects you.
This necklace was handmade in my studio by electroforming copper onto the crystal. Each piece takes 6-10 hours to complete and the finish is a unique and raw piece of jewellery.